Dear TBP Brides,
great news for all boho-chic and hippie-chic brides, who are free-spirited and who love lace. Gather your family and friends and listen closely. A collection that all of our non traditional, bohemian, unique brides have been waiting for, has come to Miami. We are happy to announce that our showroom will be carrying a unique selection of YolanCris bohemian wedding gowns and accessories. This boho chic collection has been inspired by 70's fashion and boho folk trend and will be exclusively available at The Bridal Project Miami. If you have yet to come across the brand here is a bit of information to keep you in the loop.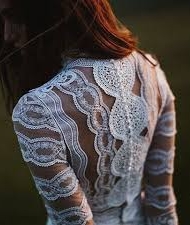 YolanCris is based in Barcelona and specializes in haute couture wedding dresses and evening wear. This is a brand owned by two women who are sisters. In 2005 they decided to bring their dream to life. This is when they created their brand and turned towards natural and authentic women.
What is unique about the brand is that every design and YolanCris creation is hand-crafted and created with high quality European fabrics. To add to the uniqueness, every detail is studied minutely with passion.
YolanCris is a brand that is forever changing the face of bridal. Why? Because they are not afraid to grow and change. Their innovation is continuously growing, which is important in the fashion world. The brand is looking forward to the successful future, with one foot in the present and a strong step forward. -YolanCris
If you are the kind of bride who loves change and is not afraid of going above and beyond what bridal is "suppose" to be. Well then you are the bohemian chic bride, you are YolanCris bride.
Be sure you are part of our newsletter, as we will be announcing a YolanCris Trunk Show soon. Here you can get more information about our unique selection of YolanCris wedding dresses.
The images above toke place at The Modern Bride fashion Show. Hosted by The Gibson Guitar. Featuring Maria D'Ocon latest collection. With special LIVE performance by Juan Felipe Samper.
Thank you to all Partners involved: Modern Luxury Miami, Modern Luxury Weddings SFL, Miami International University of Art & Design, FGI South Florida
Thank you to all Sponsors involved: MG Events, Xixón Spanish Restaurant, Estrella, Barton & Guestier France, Core Hydration, Gannon Events, She is She, Shanin Arce, Tolga Kavut, Style Saves, Brooke Sealey, Yasmin Barroso, Aaliyah Tee Mua, The Suite Spot, Zoe G.